Car companies have been on the rise since the beginning of the 21st century. A lot of people are buying Fredericton used cars because of its convenience. But along with this luxury, there is also a significant risk that comes along with it. If you own a car, this immediately makes you susceptible to car accidents.
It's regrettable for us to be involved in a car accident. Who wants to be in this predicament, anyway? But for us to at least try to avoid this kind of situation, we need to have a good understanding of what car accidents are.
What is a car accident?
A car accident is also called "motor vehicle collision" or "traffic collision." It happens when a motor vehicle hits an object, another car, a pedestrian, or an animal. Usually, it could only lead to property damage, but in other situations, severe injury and death are inevitable.
Types of Car Accidents
Car accidents can be categorized into three groups, which are based on the kind of impact, the kind of driver, and the type of vehicle involved.
Accidents Based on Type of Impact
Head-on Collisions. This kind of accident happens when two vehicles from opposite directions hit each other. Its impact is severe since there will be two forces opposing each other due to the path of the vehicle. This accident could lead to severe property damage, severe physical injury, and wrongful deaths. It's difficult to determine who's to blame in this situation since both vehicles may sustain the same amount of damage.
Rear-End Collisions. This accident is one of the most common types of accidents. This collision happens when a car hits another vehicle from the rear. This type of accident is less severe than head-on collisions because the passengers are far from the area where the impact is. The car hitting from the rear is usually the one to blame in this situation. But sometimes, the driver in the front could also be at fault.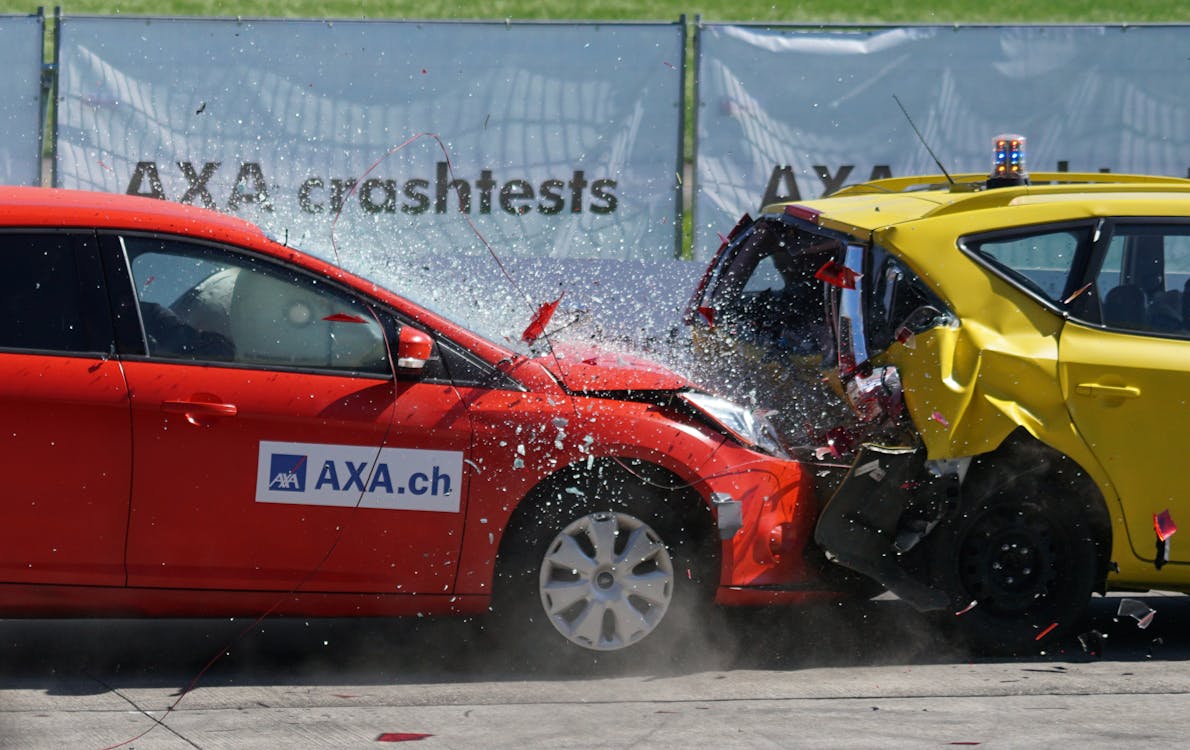 Side-Impact Collisions. A side-impact accident occurs when a car is hit at a 90-degree angle on its side. This type of accident is also called "T-bone." There are no major structural obstacles in the vehicle that are hit in a T-bone collision between a driver and a passenger, which could mean that they are very likely to suffer serious injuries. This kind of accident usually happens due to distracted driving, failure to yield, or drunk driving.
Chain Reaction. Chain reaction accidents usually occur when in a chain of rear-end accidents, more than two cars hit each other. This type of accident typically occurs due to the first collision force. Imagine a line of four vehicles: Car 1, Car 2, Car 3, and Car 4. A chain reaction happens when the last car in a car line (Car 4) rear-ends the second to the last car (Car 3). This pushes Car 3 forward to rear-end Car 2, which causes Car 2 to rear-end Car 1. This collision is also called a "multi-vehicle" accident.
Rollovers. Rollover accidents often happen due to "tripping," which occurs when a car's tire hits something, such as a bump, curb, or soft ground, which disrupts the car's forward motion, causing it to roll sideways or forward. The National Highway Traffic Safety Administration (NHTSA) estimated that 95% of all rollover accidents that involve one vehicle is due to tripping.
Accidents Based on Type of Driver
Teen Driver. Most adolescents underestimate the risk, or they do not identify any risks at all because of their lack of experience. They are also more likely to speed up and allow the distance between cars to be insufficient.
Elderly Driver. The older people drive less than youngsters. However, they also encounter more car accidents per mile. Healthy older drivers are not significantly more dangerous drivers than younger ones, but the former tends to suffer from health issues that can affect their capability to drive safely. Some of these issues are dementia, arthritis, and the necessity to use multiple medications that may cause sleepiness or other side effects, which can adversely affect driving.
Hit-and-Run. This kind of accident happens when somebody hurts someone or destroys property, and then runs away from it. They are liable for a criminal offense.
Failure to Yield Accidents. Some drivers run their vehicles as if they always have the right of way. But we need to keep in mind that all drivers must obey the rules and regulations of the road so we can avoid foreseeable harm to others. And it includes following laws that pertain to yielding to other drivers in some circumstances.
This accident usually occurs when a driver didn't yield the road appropriately, leading to a crash. The difference of this collision from the other types of crashes is that usually, the injury victim drives into the car which fails to yield. The following are possible reasons: (a) when a driver making a left turn wasn't able to yield to oncoming traffic, (b) when there is a flashing red or yellow light, (c) when a vehicle is aggressively merging onto the highway, or (d) when the driver didn't yield the right of way to a pedestrian who is already on a crosswalk.
Accidents Based on Type of Vehicle
Lyft or Uber. The drivers of Uber and Lyft are not employees of Uber and Lyft, and their cars are not owned by the companies. Passengers can hire an Uber or Lyft driver using an app rather than calling one on the street. But, ridesharing services' technological nature may not have a significant impact on knowing who will take liability during an accident.
Parking Lot Accidents. Parking lots at places like shopping centers, buildings, apartment complexes, and elsewhere could be dangerous due to the high volume of pedestrians and vehicles that passes through them. Drivers may easily get distracted by the surroundings, or they may have limited visibility. Parking lot accidents usually happen at relatively low speeds. It means that the injuries in this kind of accident are less likely to be dangerous. However, these cases can be complicated because it is not always obvious who was at fault.
During a car accident, if you are conscious enough to know the details, it's essential to quickly determine the type of car accident that you are involved in. After ensuring your safety, the next thought should be insurance.